Why nXr – next X(G)eneration referencing?
As researchers, we are often in a situation forcing our brain to remember while rummaging through articles and re-reading the articles to verify the previously taken notes for making citations in the research manuscript, causing frustration and loss of valuable time.
We do not have to suffer this situation anymore.
nXr reference manager software breaks away from existing managers by utilizing intuitive design rules (e. g., our brain thinks note and image-wise but not by article list) to bring more productivity from literature review and referencing for better research. nXr integrates three modules (nXr.iNote, nXr.iLibrary and nXr.iCite) for facilitating faster collection of notes and images, storing them in a note or image searchable library, and enabling citation based on notes and images.
Around this core, many other features in nXr (e.g., note matching in the article, predatory journal alert) will take your literature review and referencing tasks to the next level. Moreover, even the free version of our free reference manager software enables ultimate collaboration. You can share manuscripts to reviewers with cited notes and images to enhance the quality of your work and reduce the reviewer's workload for checking the accuracy of the cited material. In a research group scenario, you can automatically integrate group articles and annotations in a common knowledge base, make citations using the knowledge base and more.
To become the best reference manager equipped with next generation tools for performing reproducible impactful research by managing information overload, nXr strives to incorporate new features supported by data analytics and AI.
So, why wait? Let's join in!
The fastest way for reviewing literature
Collect notes and images with comments while browsing and reading article.
View and match your or research group notes and images automatically while visiting any previously read article.
Even it comes with "Predatory Journal Site" alert.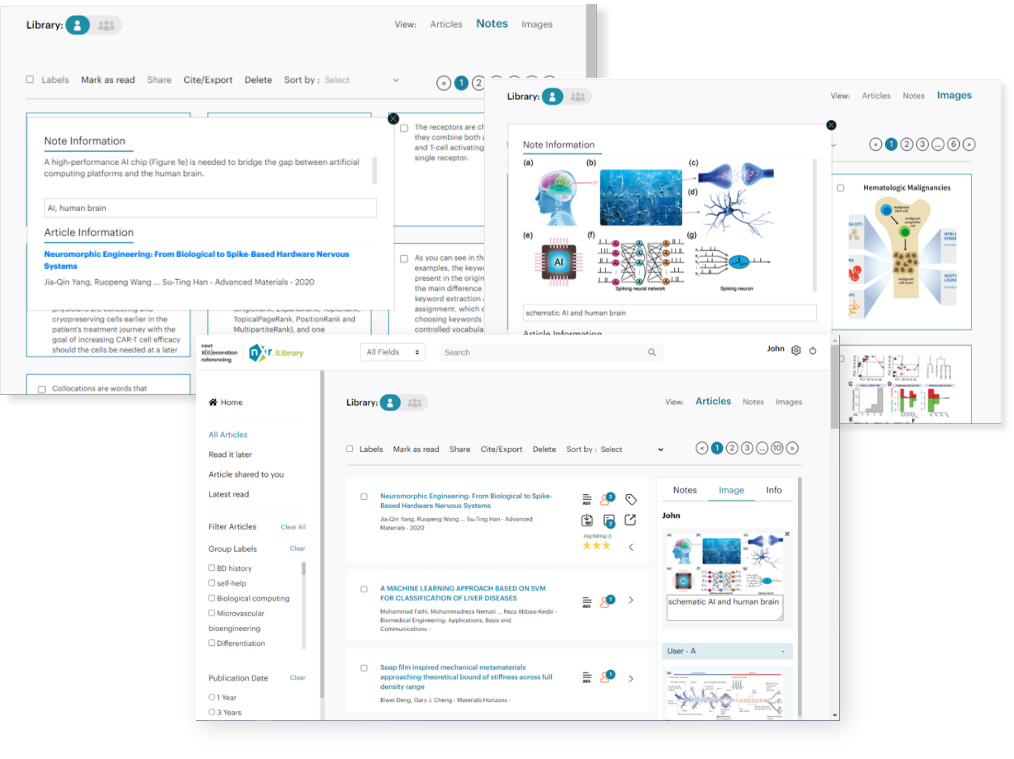 Drill down to core in no time
Search down to notes, images, tags, and comments.
Multilabel filtering not only the articles but also notes and images.
View automatically integrated research group annotations without violating privacy with a click.
Add or remove research group member without any change in your research group knowledge-base.
The ultimate citation tool
Cite based on notes and images besides article titles.
Access the whole library down to notes and images for citation without leaving the document.
Share the citation in detail with a click for reviewing.
Features that take your referencing tasks
to the next level​
By focusing on taking notes, organizing articles, and making citation steps individually, the best referencing software nXr integrates them effectively to boost your productivity as a single or group user. ​
Collect images/figures and text with tags and comments while browsing​
Collect notes from any web article (e.g. reagent webpage ) to build a comprehensive knowledge-base for manuscript writing
Predatory journal website alert
View and align notes automatically in articles when they are visited again
View group annotations by maintaining privacy
Share articles while browsing with automated emails
Access Read it Later, Latest Read and Recommended Article (upcoming) while browsing​​
Article information autofill and save PDF
Convenient multi-label article grouping
PDF annotation support.
Search and browse notes and images besides articles
Switch between your library and group library with a click
Automated seamless integration of research group literature review in one knowledge -base ​
Access the group knowledge-base by maintaining privacy​​

Add new group members in the 

knowledge-base for a strong 

jumpstart

​

Keep the knowledge-base intact when a member leaves the group ​
Multi-label filtering of article/notes/images for easy find​
Get more using less storage space and cost​
Search web for articles and Email alerts (upcoming)
Cite based on notes and images besides article titles​
View the citation and cited notes/images side-by-side
Access

entire single user 

or group library 

​

for citation, never leave your manuscript while citing​
Automatically share cited titles, notes and images with your mentors/group reviewers​
Allow journal reviewers to view cited notes and images​
Support citation in any journal format